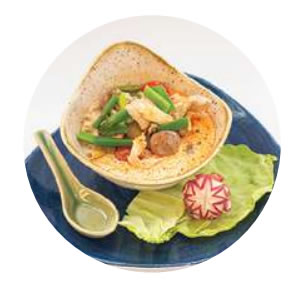 CHIKEN, GALANGAL, KAFFIR LIME LEAVES, LEMONGRASS, COCONUT MILK, MUSHROOMS, LIME JUICE, TOMATO, ONION, FISH SAUCE, THAI CHILI JAM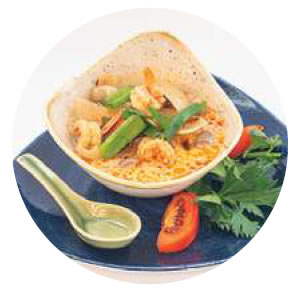 SHRIMP, GALANGAL, KAFFIR LIME LEAVES, LEMONGRASS, MILK, MUSHROOMS, LIME JUICE, TOMATO, ONION, FISH SAUCE, THAI CHILI JAM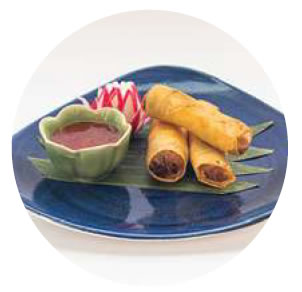 CARROTS, CABAGGE, SOY SAUCE, SHIITAKE MUSHROOM, GLASS NOODLES, GARLIC, OYSTER SAUCE, SWEET CHILI SAUCE, SPRING ROLL DOUGH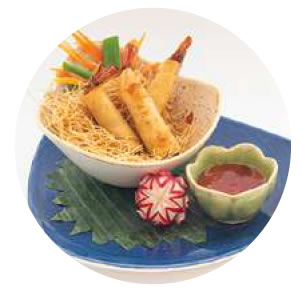 MARINATED SHRIMPS, SWEET CHILI SAUCE, SPRING ROLL DOUGH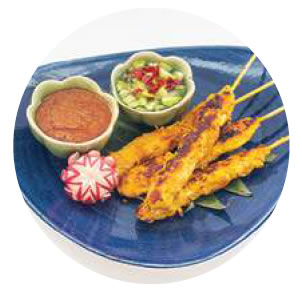 4 PEICES MARINATED CHIKEN, COCNUT MILK, CUCUMBER SUCE, PEANUT SAUCE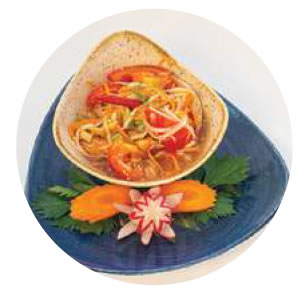 CARROTS, TOMATOES, GREEN BEANS, LIMES, PEANUTS, KOHLRABI, FRESH CHILI, FISH SAUCE, GARLIC, TAMARIND SAUCE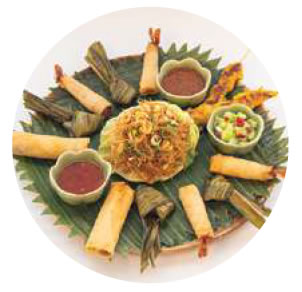 6 SPRING ROLLS, 6 SHRIMP SPRING ROLLS, 6 PEICES MARINATED CHIKEN, FRIED RICE NOODLES, TAMARIND SAUCE, ONION, GARLIC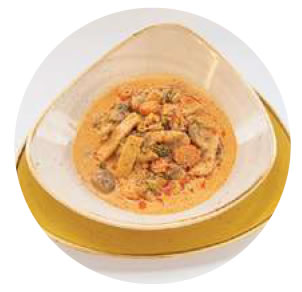 CHIKEN, RED CURRY PASTE, POTATOES, COCONUT MILK, CARROTS, GREEN BEANS, BROCCOLI, CAULIFLOWER, BAMBOO, MUSHROOMS, FISH SUCE, ZUCCHINI, BELL PEPPERS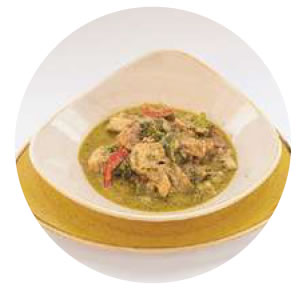 CHIKEN, GREEN CURRY PASTE, POTATOES, COCONUT MILK, CARROTS, GREEN BEANS, BROCCOLI, CAULIFLOWER, BAMBOO, MUSHROOMS, FISH SUCE, ZUCCHINI, BELL PEPPERS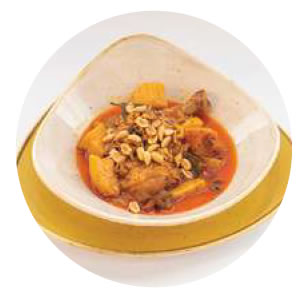 CHIKEN, MASSAMAN CURRY PASTE, POTATOES, COCONUT MILK, ONION, PEANUTS, FISH SAUCE, TAMARIND SAUCE, FRIED ONION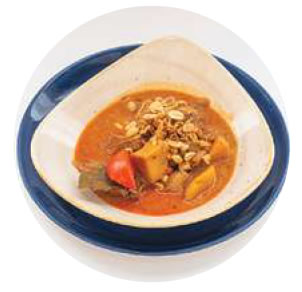 VEAL, MASSAMAN CURRY PASTE, POTATOES, COCONUT MILK, ONION, PEANUTS, FISH SAUCE, TAMARIND SUCE, FRIED ONION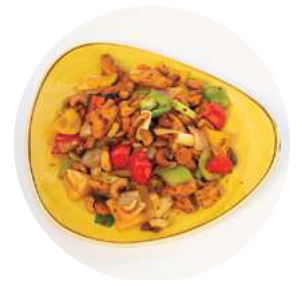 CHIKEN, THAI CHILI JAM, CASHEWS, BELL PEPPERS, ONIONS, CARROTS, MUSHROOMS, SPRING ONIONS, OYSTER SAUCE, SOY SAUCE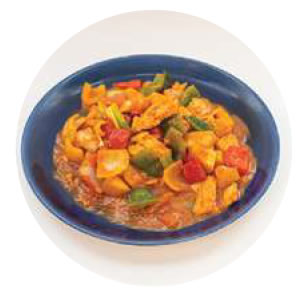 CHIKEN, TOMATO SAUCE, BELL PEPPERS, ONIONS, PINEAPPLE, TOMATOES, SPRING ONIONS, SWEET CHILI SAUCE, OYSTER SAUCE, SOY SAUCE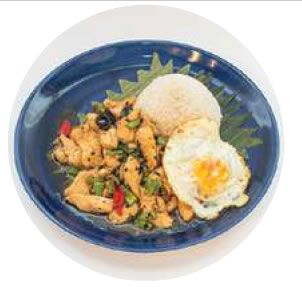 CHIKEN, GARLIC, FRESH CHILI, HOLY BASIL, OYSTER SAUCE, SOY SAUCE, CUCUMBER, EGG, RICE, GREEN BEANS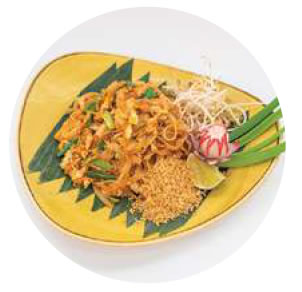 CHIKEN, RICE NOODLES, CARROTS, CABBAGE, SOY SAUCE, SPRING ONIONS, EGG, TAMARIND SAUCE, OYSTER SAUCE, SOY SPROUTS, PEANUTS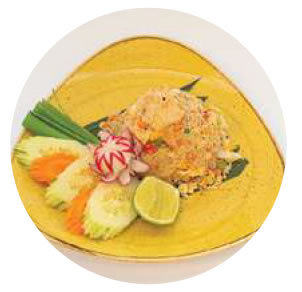 CHIKEN, RICE, EGGS, ONION, GARLIC, CARROT, CABBAGE, BELL PEPPERS, SOY SAUCE, OYSTER SAUCE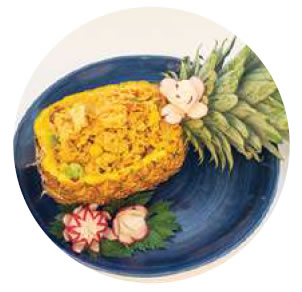 PINEAPPLE, FRIED RICE, CHIKEN, SHRIMP, EGG, CARROT, CASHEW, ONION, GARLIC, SOY SAUCE, OYSTER SAUCE, PEAS, RAISINS, CURRY POWDER, COCONUT MILK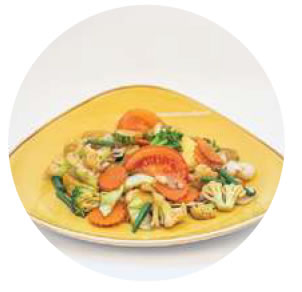 CARROTS, ZUCCHINI, CAULIFLOWER, BROCCOLI, RED CABBAGE, PEAS, TOMATO, ONION, GARLIC, OYSTER SAUCE, SOYA SAUCE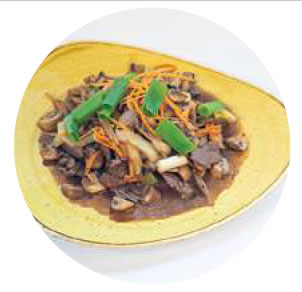 VEAL, OYSTER SAUCE, SOY SAUCE, MUSHROOM, ONION, CARROT, GARLIC, SPRING ONION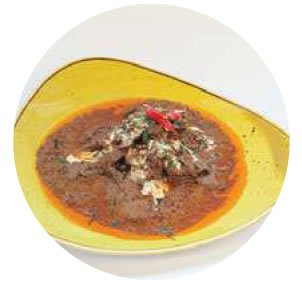 VEAL, PANANG CURRY, COCONUT MILK, KAFFIR LIME, FISH SAUCE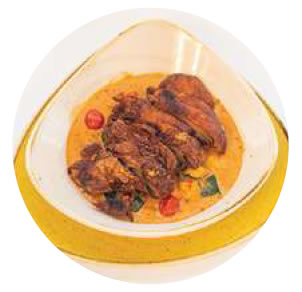 DUCK, RED CURRY PASTE, CHERRY TOMATO, ZUCCHINI, FISH SAUCE, PINEAPPLE, GRAPES, COCONUT MILK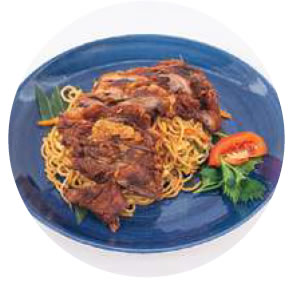 DUCK, YELLOW NOODLES, CARROTS, CABBAGE, SPRING ONIONS, SOY SPROUTS, SOY SAUCE, OYSTER SAUCE, FISH SAUCE, PEANUTS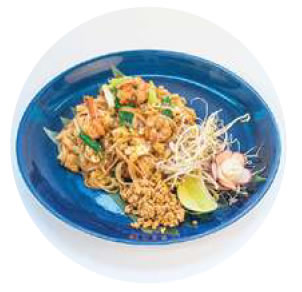 SHRIMP, RICE NOODLES, CARROTS, CABBAGE, SOY SAUCE, SPRING ONIONS, EGG, TAMARIND SAUCE, OYSTER SAUCE, SOY SPROUTS, PEANUTS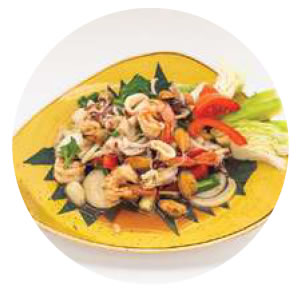 SHRIMP, MUSSELS, SQUID, GLASS NOODLES, CHILI, GARLIC, FISH SAUCE, LIME JUICE, ONION, TOMATO, SPRING ONION, CELERY, CORIANDER, CUCUMBER, CABBAGE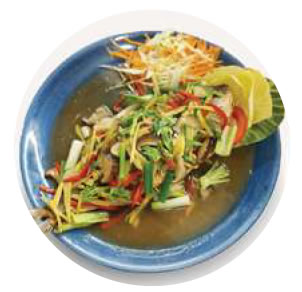 GILTHEAD BREAM, GARLIC, GINGER, SHIITAKE, SPRING ONION, CELERY, RED MILD CHILI, OYSTER SAUCE, SOY SAUCE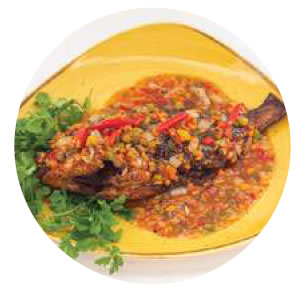 GILTHEAD BREAM, GARLIC, ONION, BELL PEPPERS, PINEAPPLE, SPRING ONION, SWEET CHILI SAUCE, OYSTER SAUCE, CHILI, FISH SAUCE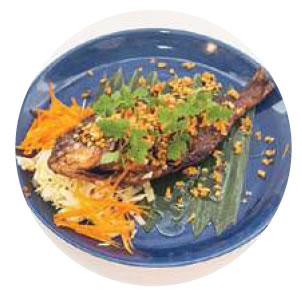 GILTHEAD BREAM, GARLIC, BLACK PEPPER, FISH SAUCE, OYSTER SAUCE
Vegetarian and vegan dishes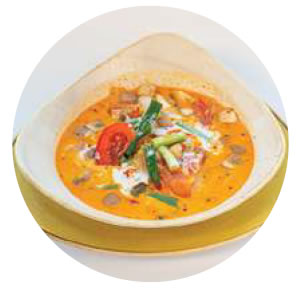 GALANGAL, KAFFIR LIME LEAVES, LEMONGRASS, COCNUT MILK, MUSHROOMS, LIME JUICE, TOMATO, ONION, THAI CHILI JAM, CABBAGE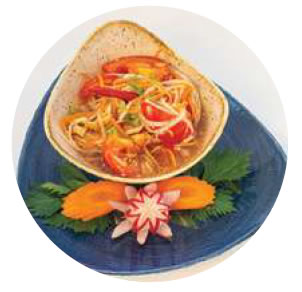 CARROTS, TOMATOES, LONG BEANS , LIME, PEANUTS, KOHLRABI, FRESH CHILI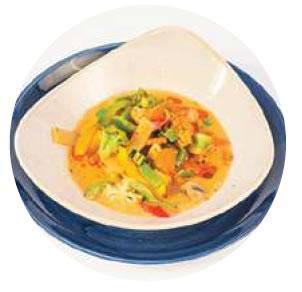 RED CURRY PASTE, COCNUT MILK, POTATOES, CARROTS, GREEN BEANS, BROCCOLI, CAULIFLOWER, BAMBOO, MUSHROOMS, ZUCCHINI, BELL PEPPERS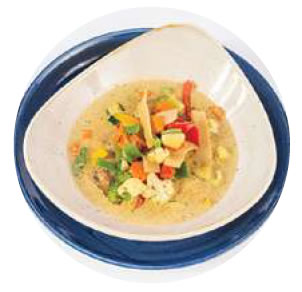 GREEN CURRY PASTE, COCNUT MILK, POTATOES, CARROTS, GREEN BEANS, BROCCOLI, CAULIFLOWER, BAMBOO, MUSHROOMS, ZUCCHINI, BELL PEPPERS
POTATOES, SWEET POTATOES, CARROTS, ONIONS, TOMATO, PEANUTS, MASSAMAN CURRY, FRIED ONIONS, COCONUT MILK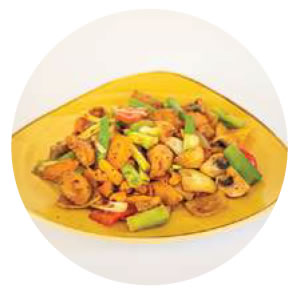 RICE NOODLES, CARROTS, CABBAGE, SOY SAUCE, SPRING ONIONS, EGG, TAMARIND SAUCE, SOY SPROUTS, PEANUTS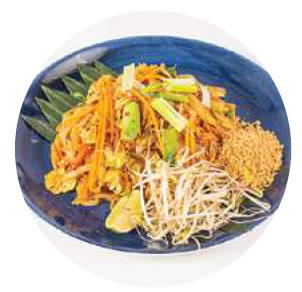 RICE, EGG, SOY SAUCE, CARROTS, CAULIFLOWER, BELL PEPPERS, ZUCCHINI, CABBAGE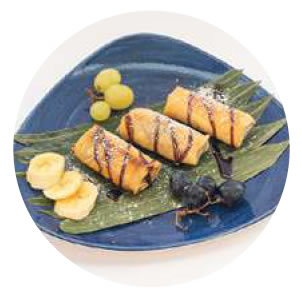 BANANA, NUTELLA, SPRING ROLL DOUGH
STICKY RICE, COCNUT MILK, MANGO ICE CREAM, MANGO CREAM
Green tea that contains orange peel, sunflower flowers, green Chinese Senchu tea, pieces of ginger and lemon. This tea has an enticing harmony of refreshing taste and pleasant aroma, so few can resist it. It reduces stomach cramps, alleviates shivering and colds, and is also effective in the treatment of seasickness.
Refreshing fruit tea, enriched with hibiscus and sunflower flowers, pieces of apple and rosehip, orange and lemon peel.
A blend of black teas (Ceylon, South India and China), candied pineapple and mango, moringa leaves, natural aroma, strawberry and orange pieces and safflower flowers.
This traditional tea, a favorite among the British, is a mixture of different teas from Ceylon, golden yellow in color and aromatic in taste. You can complete it with a slice of lemon, honey or sugar. The richness of flavonoids, antioxidants and the stimulating caffeine have made this tea one of the synonyms for black teas.
A classic flavored black tea that is drunk in Great Britain with a few drops of milk. It owes its special flavor to the addition of bergamot oil. Due to the fact that it contains Assam, which is rich in caffeine, Earl Gray Special is an excellent substitute for coffee.
Pai Mu Tan white tea, Darjeeling green tea, China Nobeltee green tea, Lung – ching, Jade Pearl jasmine, candied pineapple, candied mango, natural aroma, orange peel, candied papaya, strawberry pieces, red currants, apricot and cherry pieces.
This composition contains Chinese green tea Ming Mee, Wu Lu, Gunpowder, rose petals and buds and pieces of strawberry. This tea is an ideal tool for strengthening the immune system, helps in cases of intestinal diseases and dissolves stones in the kidneys. Rose petals stop bleeding from the lungs and stomach and regulate stomach cramps.
Top quality white tea originating from Fujian province (China). It is rich in antioxidants and vitamin C and is considered a "tumor killer". Due to its exceptional quality and healing properties, its price is slightly higher. A cup of this tea is worth 12 glasses of orange juice.
Radenska sparkling water 0,25L
Radenska sparkling water 0,5L
Radenska sparkling water 1L
Degenija Pelinkovac 0,03L
Spirit of Viljamovka 0,03L
Whiskey Glenfiddich 15Y 0,03L
Pomme Roner apple liqueur 0,03L
Whiskey Talisker Dark Storm 0,03L
Diplomatico Reserva Exclusiva rum 12Y 0,03L
Tequila Olemca Blanco 0,03L
Draft Grimbergen Double Ambree dark 0,3L
Draft Grimbergen Double Ambree dark 0,5L
Draft Grimbergen Duoble Blonde 0,3L
Draft Grimbergen Duoble Blonde 0,5L
Somersby mango - lime 0,33L
0,1L / 1,90€ / 14,32KN I 1,0L / 19,00€ / 143,16KN
0,1L / 1,90€ / 14,32KN I 1,0L / 19,00€ / 143,16KN
0,1L / 5,00€ / 37,67KN I 0,75L / 30,00€ / 226,04KN
Istra / 13% alkohola
0,75L / 30,00€ / 226,04KN
Istra / 13% alkohola
0,1L/5,00€/37,67KN I 0,75L/30,00€/226,04KN
Plešivica
0,1L/5,00€/37,67KN I 0,75L/30,00€/226,04KN
Plešivica
0,1L/5,00€/37,67KN I 0,75L/30,00€/226,04KN
Plešivica
0,1L / 4,30€ / 32, 40KN I 0,75L / 26,00€ / 195, 90KN
Kvarner / 11,5% alkohola
0,75L / 50,00€ / 376,73KN
Južna Dalmacija / 13% alkohola
0,75L / 50,00 € / 376,73KN
Srednja i južna Dalmacija / 13,5% alkohola
0,1L / 5,00€ / 37,67KN I 0,75L / 30,00€ / 226,04KN
Međimurje / 13% alkohola
0,1L / 5,00€ / 37,67KN I 0,75L / 30,00€ / 226,04KN
Međimurje / 13,5% alkohola
Khrauthaker Graševina Mitrovac
0,75L / 30,00€ / 226,04KN
Slavonija / 13,5% alkohola
0,1L / 5,00€ / 37,67KN I 0,75L / 30,00€ / 226,04KN
Slavonija / 13% alkohola
Iločki Traminac Principovac
0,75L / 40,00€ / 301,38KN
Slavonija / 13% alkohola
0,1/5,00€/ 37,67KN I 0,75L/30,00€/ 226,04KN
Plešivica
0,1L / 5,00€ / 37,67KN I 0,75L / 30,00€ / 226,04KN
Istra / 13% alkohola
Korlat Cabernet Sauvignon
0,1L / 5,80€ / 43,70KN I 0,75L / 35,00€ / 263,71KN
Sjeverna Dalmacija / 14% alkohola
0,75L / 35,00€ / 263,71KN
sjeverna Dalmacija / 14% alkohola
0,75L / 34,00€ / 256,17KN
srednja Dalmacija / 14% alkohola
Korta Katarina Plavac Mali
0,75L / 50,00€ / 376,63KN
južna Dalmacija / 14,5% alkohola
0,1L /5,00€ / 37,67KN I 0,75L / 30,00€ / 226,04KN
Međimurje
0,1L/5,00€/ 37,67KN I 0,75L/30,00€/ 226,04KN
Plešivica
0,75L / 38,00€ / 286,31KN
Istra / 12,5% alkohola
Radgonska Zlatna Penina Brut
0,1L / 5,00€ / 37,67KN I 0,75L / 30,00€ / 226,04KN
Slovenija / 12,5% alkohola
0,75L / 25,00€ / 188,36KN
Slovenija / 10,5% alkohola